We are excited to introduce a new treatment option for men suffering from BPH (benign enlargement of the prostate). Rezum has undergone rigorous studies and was approved by the FDA in 2015 for the treatment of the enlarged prostate.
University Urology Associates is the first location in Canada where Rezum is available and now the first Designated Centre of Excellence outside of the USA.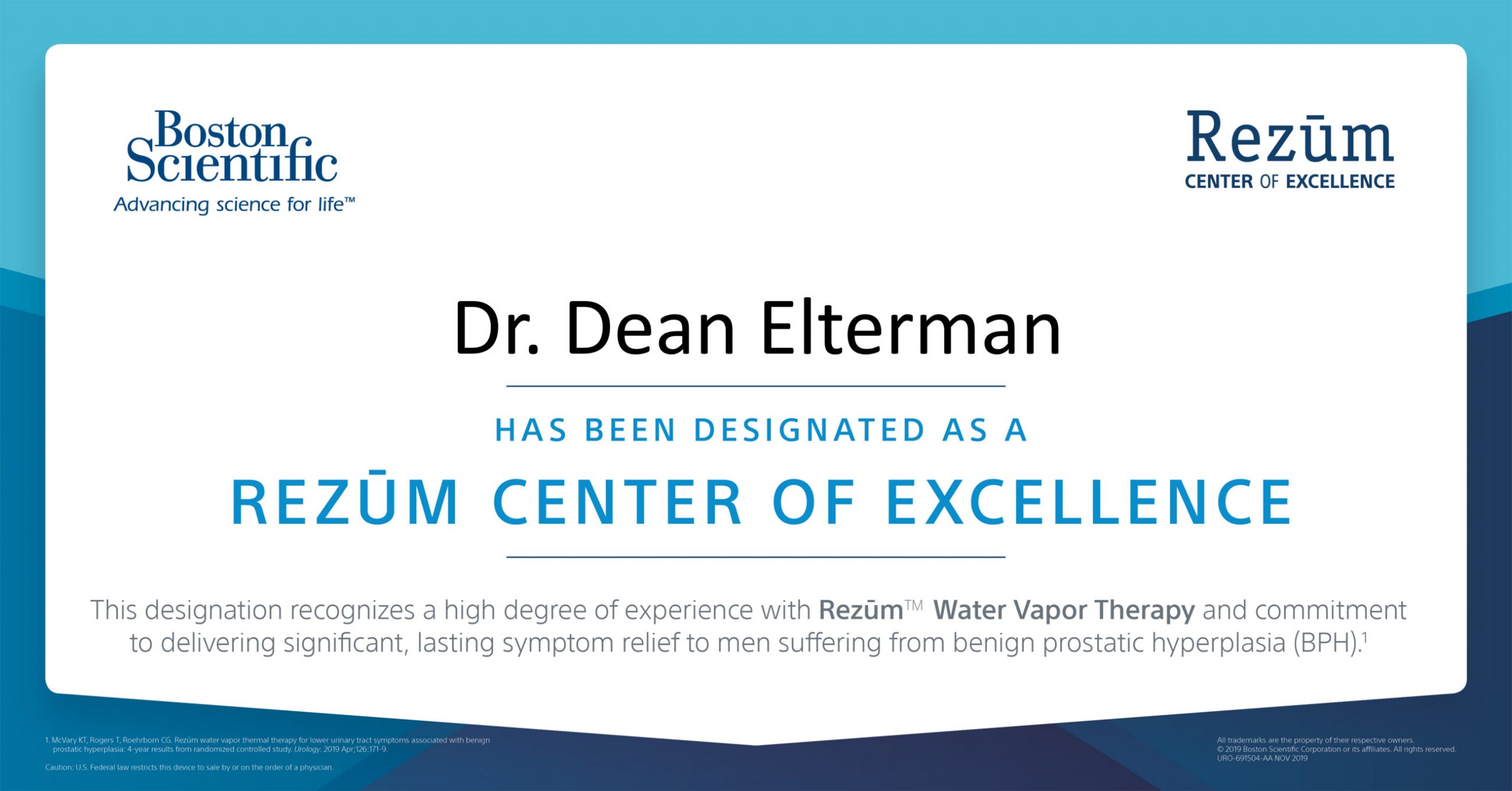 What is Rezum?
Rezum is a minimally-invasive alternative to pharmaceutical treatment and more invasive surgeries like the TURP procedure that are frequently prescribed for BPH. The Rezum treatment allows men to go off or avoid medications altogether. Additionally, with Rezum, men will not experience the sexual dysfunction of surgery such as retrograde ejaculation or erectile dysfunction. The one-time Rezum treatment allows men to return to their regular routine quickly, without the hospitalization and recovery associated with surgery.
How does Rezum work?
Rezum uses radiofrequency to heat water into vapor (steam), which is then injected directly into prostate. Vapor turns into water on contact with the prostate tissue, creating controlled damage to the cells that cause obstruction, discomfort, and symptoms associated with BPH. Over time (~3 months), your body will absorb and remove the treated tissue through the natural healing response.
Will I have to stay at the hospital?
No, you will be able to go home the same day from our office. You can expect to spend 2 hours at our clinic as Rezum is performed under local anesthetic or light sedation. Due to post-treatment swelling, a urinary catheter is necessary and will be placed immediately after the treatment for several days.
When can I return to regular activities?
Most patients return to regular activities within a few days. Your doctor will discuss this during your consultation.
When will I see improvement?
The speed of recovery is largely dependent on your body's ability to heal. Typically, we see improvement in our patients in as little as two weeks after the procedure, with the full effect taking place by three months.
Can any urologist perform Rezum?
No. Only physicians who have been specially trained can treat using the Rezum technology.
Post-Treatment Protocol
Main precaution is limiting strenuous activity until the catheter is removed. You will receive detailed post-treatment instructions at your treatment day so you may plan your days accordingly.
Side Effects
Rezum is a minimally-invasive procedure and has fewer side effects compared to surgical therapies. However, as with any intervention, some of the following side effects may occur for a short period of time:
Painful urination
Blood in urine
Blood in semen
Frequent urination
Inability to urinate or completely empty the bladder
Need for short-term catheterization
How long do the results last?
Clinical studies have shown sustained symptom improvement up to 4 years and studies are ongoing to determine longer term results.
Eligibility Criteria
Rezum indicated for men 40 years or older, with a prostate volume greater than  30cm3.
Rezum is not covered by OHIP. If you have private health insurance, check with your insurance provider whether Rezum is covered under your policy.