Education and Memberships
Dr. Dean S. Elterman completed his medical degree followed by residency in urologic surgery at the University of Toronto. He became a fellow of the Royal College of Physicians and Surgeons of Canada in 2011. Dr. Elterman completed a two-year fellowship in Voiding Dysfunction, Neuro-Urology, Female Urology and Pelvic Reconstruction at Memorial Sloan-Kettering Cancer Center and New York Presbyterian Hospital/Weill Cornell Medical College in New York City.
Dr. Elterman has worked in the areas of men's health and survivorship at the Iris Cantor Men's Health Center at New York Presbyterian Hospital/Weill Cornell Medical College and at the University of Toronto. He is the Medical Director of the Prostate Cancer Rehabilitation Clinic at Princess Margaret Hospital Cancer Centre.
He completed his Masters degree in Clinical Epidemiology and Health Services Research at Weill Cornell Graduate School of Medical Sciences.
Dr. Elterman is a member of several professional societies including the Society of Urodynamics, Female Pelvic Medicine and Urogenital Reconstruction, the Society of Genitourinary Reconstructive Surgeons, the International Neuromodulation Society, and the International Society of Men's Health.
---
Dr. Dean Elterman is the first clinician outside of the USA to become a Designated Centre of Excellence for Rezūm™ Water Vapor Therapy, a minimally invasive BPH treatment.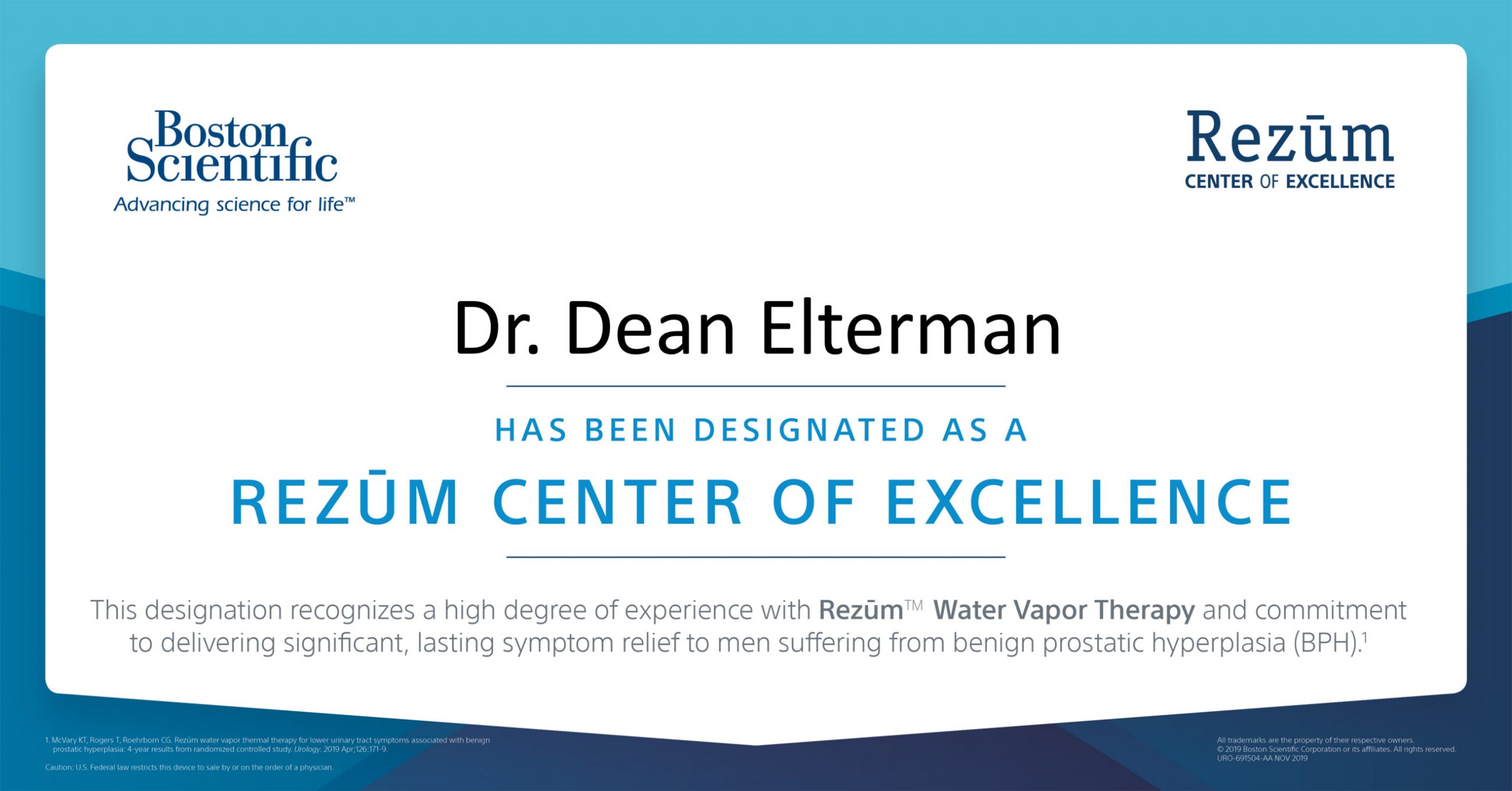 ---
Clinical and Research Interests
Dr. Elterman's clinical and research interests include male health, voiding dysfunction and reconstruction including BPH, incontinence (male sling/artificial urinary sphincter), sexual dysfunction (penile prosthetic surgery); female voiding dysfunction including overactive bladder (sacral neuromodulation) and urinary incontinence.
Clinical Expertise
Benign Prostate Enlargement (BPH)
Erectile Dysfunction
Male Incontinence
Vaginal Atrophy and Laxity
Female Incontinence
Overactive Bladder
Follow on Social Media