UroLift is a minimally-invasive approach to treating an enlarged prostate (BPH) while preserving sexual function
Why UroLift?
Non-Invasive, Safe, Effective
UroLift is a safe, highly effective procedure that involves no cutting, heating, or removal of prostate tissue.
Preserve Sexual Function
UroLift is the procedure for men seeking relief from their BPH symptoms and wishing to maintain their quality of life. UroLift doesn't negatively impact sexual function, an issue frequently associated with other BPH therapies such as TURP, laser, and medication. Preservation of sexual function is a unique benefit of the UroLift.
Drug-Free Permanent Treatment
Quick and permanent relief that requires no ongoing maintenance or drugs, with results lasting for several years.
Why trust our clinic with your Urolift?
Our urologists are some of the most experienced with the procedure in all of North America, including having been involved in the original clinical trials. We have been successfully treating BPH with UroLift for more years and in more patients than any other clinic in Canada.
What happens during the procedure?
The enlarged prostate tissue is lifted with the use of UroLift implants to hold the tissue apart and prevent blockage of the urethra.
UroLift is an outpatient procedure that takes 15 to 30 minutes and is performed under light sedation.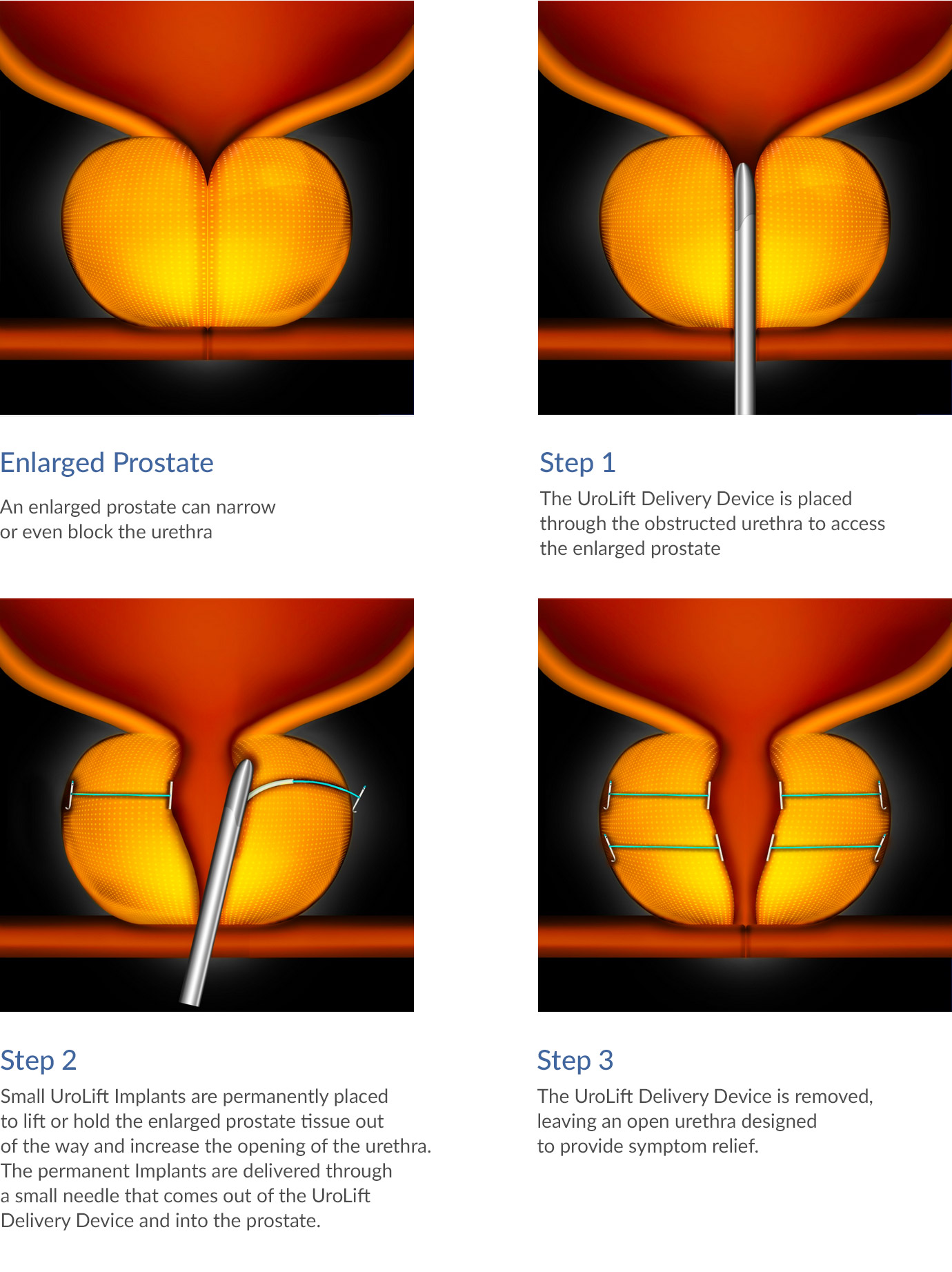 What happens during the recovery period?
Downtime is minimal, you should be able to return to normal activities within a few days.
You can expect symptom relief in as little as 2 weeks.
You may experience some urinary discomfort during the recovery period. Most common side-effects are blood in urine, pelvic pain, and urge incontinence. Most symptoms are mild to moderate in severity and resolve on their own within 2 to 4 weeks after the procedure.
For more information, visit Urolift.ca